Artist Spotlight - Phil Williams
aka "Philosophy"
Pastor, Teacher, Conference/Motivational Speaker, Producer, Songwriter, Artist, Author, Radio Host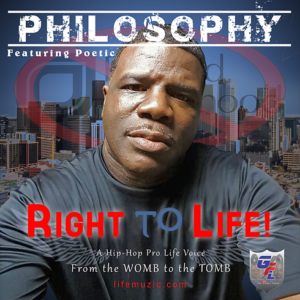 A native son of Akron, Ohio, Phil Williams is an ordained Pastor and leading Conservative media personality. He is host of The Philosophy with Phil Williams Show and creator of Runaway Conservative, as well as the animated character Lil Jimmy who is designed to inspire positivity in young people in schools and the community as a whole. Lil Jimmy is also a massive advocate for Foster Children and Adoption along with addressing reading and literacy. Phil is the author of a Lil Jimmy book called "I Was Being Told But Nothing About My Dreams!", co-written by McKinley "Mack" Price. Lil Jimmy, also known as "Another Kid From Akron" has a TV show produced by Life Muzic called "Gotta Question With Lil Jimmy", encouraging young people to ask questions. Phil has produced one of the only Anti-Drug musical projects in the world entitled "Jacobs Ladder" inspired by his intern Jacob Smarch (17) who passed away from a drug overdose. Believing that "It Takes a Village, Is Not Just a Cool Thing to Say", Phil has also recently released his new Pro Life Hip Hop album called "Right To Life" and is ready to move ahead with more from LIFE MUZIC.
Although he was negatively influenced by his father's undesirable lifestyle, Phil credits God for blessing him with a better life. At an early age he enlisted in the U.S. Army where he served as a Communication Specialist. Unfortunately, his service left him with some life challenges. However, even as a disabled veteran, he still encourages other veterans of his community, and motivates them to remain positive and productive.
Phil currently resides in Metro Atlanta, Georgia where he is a Youth Pastor at Mustard Seed Faith Ministry in Covington GA under Sr. Pastor Jimmy A. Copeland. He is the founding member of the group "God's Faith League" (GFL), a proud member of the Non-Profit Organization "Men On Point" Disciples For Christ, whose founder is Min. Stanley Howard. Phil is blessed to be a Custodian in the Fayette County School System at McIntosh High School in Peachtree City GA where he has made a School Spirit album called "The Chief In Me". His truly inspirational music can be found on over 30 music platforms worldwide and at www.lifemuzic.com.
For booking of Philosophy contact Phil Williams at [email protected] or 404-333-8871
Visit Website
Phil on YouTube
Please let us know what you think of our website and ministry. Your feedback is very important to us. If you want us to include a video, song, movie or book in our website listing, please let us know using the form. Thank you for your feedback.