EVANGELIST ALVEDA C. KING uses her God-given talents and abilities to glorify God and uphold the sanctity of life from the womb to the tomb.
The daughter of the late civil rights activist Rev. A.D. King and his wife Naomi Barber King, Alveda grew up in the civil rights movement led by her uncle, Rev. Dr. Martin Luther King, Jr. Her family home in Birmingham, Alabama, was bombed, as was her father's church office in Louisville, Kentucky. Alveda was jailed during the open housing movement. She sees the prolife movement as a continuation of the civil rights struggle.
About Alveda King: Alveda C. King, PhD, serves as Chair of the America First Policy Institute's Center for the American Dream. She is the daughter of the late slain civil rights activist Rev. A. D. King and the niece of the Rev. Dr. Martin Luther King, Jr., as well as a Christian evangelist; graduate of Aidan University; and is founder of SPEAK FOR LIFE, and ALVEDA KING MINISTRIES (www.alvedaking.com). Dr. King is also an acclaimed author, Fox News Channel contributor, Fox Nation host, NEWSMAX blog contributor, twice elected to GA State House, past presidential appointee, 2021 recipient of the Presidential Lifetime Achievement Award, and is a film and music industry veteran.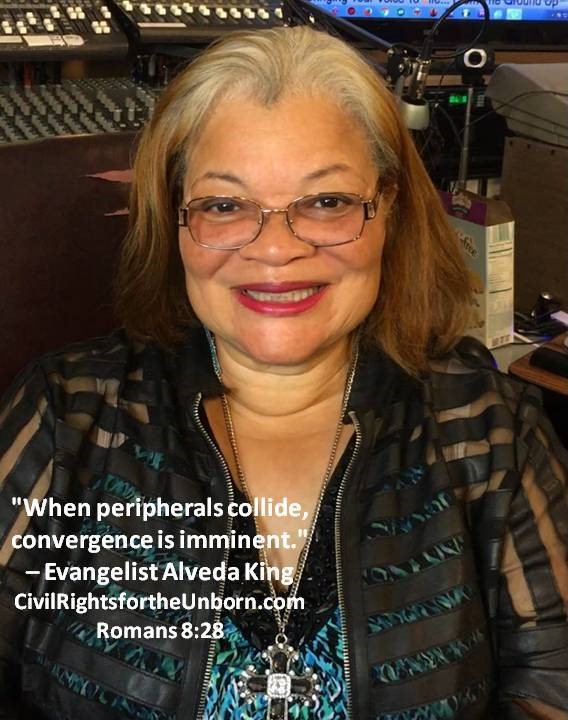 Please let us know what you think of our website and ministry. Your feedback is very important to us. If you want us to include a video, song, movie or book in our website listing, please let us know using the form. Thank you for your feedback.