Artist Spotlight - Lynda Elliott
It began when…
Esther arrived at the back door of my parent's home when she was 13 and I was 5.   She was hired to be our maid. In the 1940's, almost every white family, rich or poor, had a black maid.  Most could afford one, because they cost little to nothing.
Because I was only 5, I thought Esther had just come to be my friend and that is what she became.  She did work at the house, but somehow, we were free to play in the afternoons.
Esther and I would play for hours in my tree house with my dolls.  They were our babies. We changed their outfits many times a day.  We made mud pies and decorated them with flowers for our table.  We fed our babies china berries from the tree.  We rocked them and sang them to sleep with lullabies.
I never thought about it at the time, but all my dolls were white.  I am not sure that Esther thought about it, either. I believe that nothing could have gotten in the way of our fun together with our babies. Our play times were always over too soon.
We got into a lot of fun-trouble together!  For example, over and over, we would secretly pull a ladder up to our garage, climb up onto the roof, and jump about 10 feet down into a huge pile of leaves that were stored there for compost. We loved to create adventures. When my mother finally discovered us, laughing and tossing around in the pile, we both got into big-trouble.
I want to believe that both of us had innocent, pure hearts and that we shared the delight that Jesus intended for us to have.   We came to each other as Jesus asks us to come to God, as little children.
The dark chill…
Can you remember being a child and becoming aware that something was happening that should not be happening, but you did not have words for it? You just knew in your heart that something was not right.
That is how I felt during the Christmas holidays when I was 6.  My mother had taken me shopping for presents for my friends.  As we entered the store, in my excitement, I said, "Let's get Esther's presents first!" Visions of fun gifts (more dolls, puzzles and sand buckets) were flying through my head.
I heard my mother say something I never forgot. Her words had no meaning for me, but I felt their impact.  A dark chill crept into me that I had never felt before.  I could not have described it, but I felt afraid, confused and I even felt afraid of my own mother, whom I loved
My mother stopped, placed her hands on my shoulders, looked right into my eyes and said, "I know you love Esther, but she is not your friend.  She is our maid! People don't give their maids the same kind of gifts they give their friends.   Maids only get a pair of stockings and a box of chocolate covered cherries for Christmas.  That is all maids get!
Confused, I asked, "Why?"
My mother responded, "Lynda, it's just the way it is!"
"Why?" I asked again.
I did not like it. My desire for Esther to have the best gifts grew strong in me. I continued to ask my mother for days, always begging for the best gifts for Esther and I then gave up. Christmas finally came and I felt a new level of the chill when I gave her the stockings and chocolate covered cherries.  I felt shame. As long as Esther was with us, we gave her chocolate covered cherries and a pair of stockings at Christmas. I never could convince my mother that Esther was worthy of the best!
Why?
I want to say here that my mother would never have called herself a racist.  She was kind. She established a dental clinic "across the tracks", recruiting dentists in town to treat teeth for poor families, black or white.   I remember her taking me with her to carry abundant baskets of food and clothing to poor families. My mother taught me, "Jesus loves the little children, red and yellow, black and white…"
I learned later that although my mother probably loved Esther and was kind to her, she never saw her as equal. Later in life, I had words for what happened when I was 6….…inequality and racism…even though my mother was a kind person, The rule: "It's just the way it is." ruled her.
Why? Time passed.
School started, but Esther did not go.  She worked at the house for our family. We would share cookies and milk when I came home in the afternoons. I never questioned that.  Obviously, I had become contaminated by my mother's rule, too. It's just the way it was.  When I left for college when I was 18, Esther and I had been together for 13 years.
When I came home for weekends, I would hurry over to Ester's house. Our worlds had become very different, but as far as I knew, the feelings in our hearts never changed. Excited, we hugged each other, sat on the swing on her front porch and we would talk. I would like to believe that nothing ever changed the precious friendship God gave us. Our hearts ruled. The rule no longer ruled!
I want to believe that our friendship was pure, unstained by history, founded in love.   I believe it was as God intended it to be.
Before I finished college, Esther died.  I was not informed until I went home for a visit and was told she had died from high blood pressure. What loss I felt!! My best, most fun friend was gone!  Even at that age, I knew almost nothing about Heaven, but I comforted myself by thinking about Esther in Heaven jumping off ladders and playing with dolls.
 I grew up, married and we moved to Birmingham. When I saw the account of the Sixteenth Street Baptist Church bombing. I held our first son more closely, as the familiar feelings of fear and shame returned, magnified.
WHY?
I grew up and became a social worker.  I became an advocate for generational victims. I began in one of the most painful arenas possible… child abuse.  Sin is generational. It is a cycle. Although many of us are no longer children by years, we are all God's children. We are sent from Heaven to make the whole world better, to love and to care.
I still care and I work. I am very privileged to have black friends. They are superior to me in many ways. I am grateful that they will befriend me, a white person.  There may be occasional shadows, but history is not ruling our hearts. There may be an ache, but we are not ruled. Neither history nor color rules us.
We are not innocent, but we can be made pure in heart through repentance. I want us to love like little children. I want white people to love black people and black people to love white people…Above all, I want all people to love Jesus and all people. I pray that all people will experience the glory of God that Esther and I knew.
Let us hear the call of Jesus today: I assure you and most solemnly say to you, unless you repent (that is, change your inner self, your old way of thinking, live changed lives) and become like children (trusting, humble and forgiving,) you will never enter the kingdom of Heaven.  Matt 18:3.
I pray that all people will repent, receive pure hearts and experience the glory of God that Esther and I knew.
Living Colors Website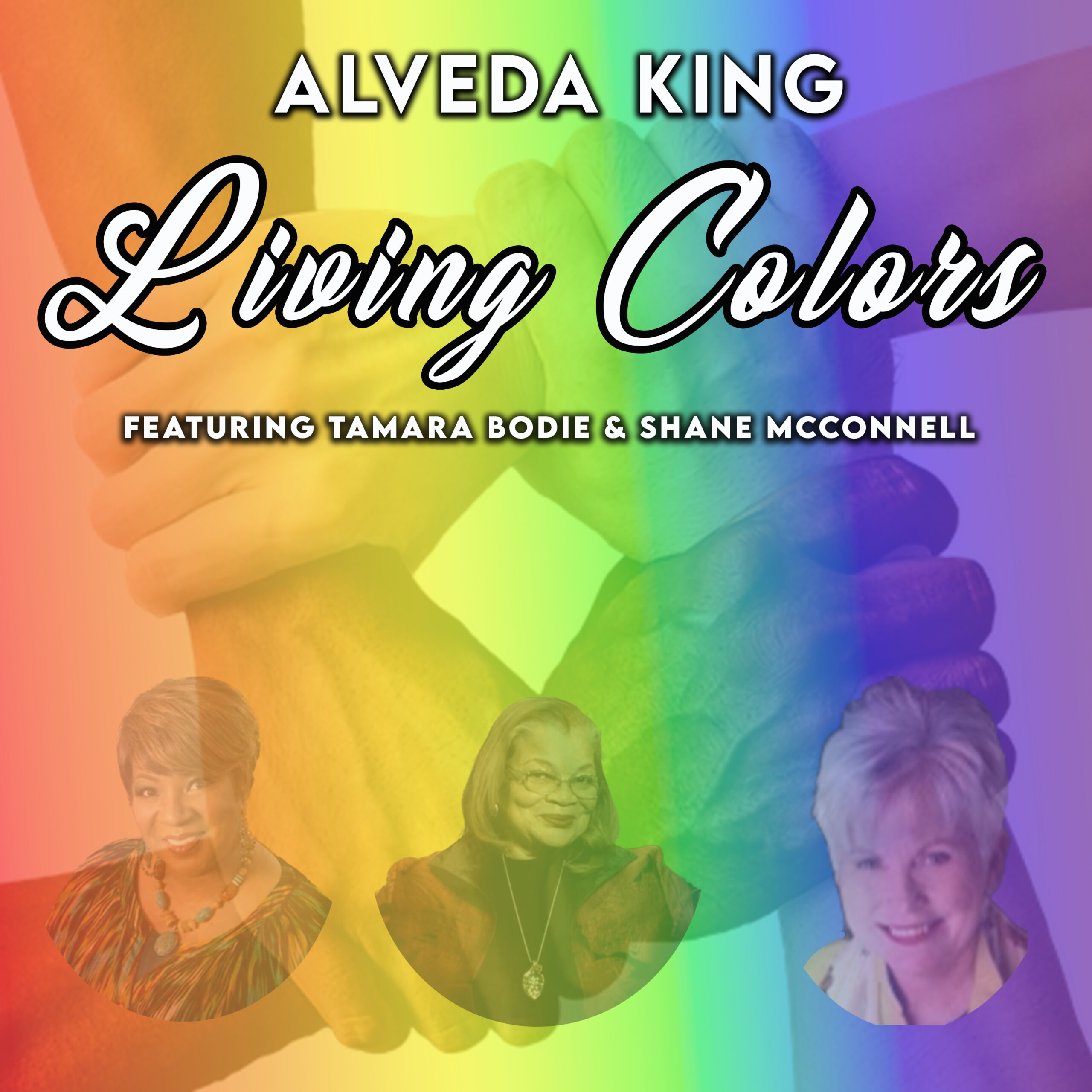 LIVING COLORS
Written By Lynda Elliott and Babbie Mason
Featured Vocalists: Tamara Bodie and Shane McConnell
Alveda King – Executive Producer
Produced by Ian Eskelin at The Holiday Ian (Franklin, TN)
Video by Studio25 Productions
Lynda is a retired social worker, counselor and author. She lives in Little Rock, Arkansas with her husband Wayne. She has two sons, David and Sam, and 6 grandchildren.
LIVING COLORS
I look all over and what do I see?
beautiful people everywhere
send down from Heaven
to make the whole world better
to love and to care, oh yes.
Listen everybody, we gotta come together
in the powerful name of love,
All God's children, a family forever,
Love is enough, Oh yes.
CHORUS
We are living colors, living colors,
Yes, that is who we are
We are so beautiful to the glory of God
when we spread His love to one another
in Living Colors.
Come on, Children, who will walk with me?
Will you take somebody by the hand?
Tear down some walls
and build some bridges
all over the land, oh yes
It's time we stand up
Gotta stand united
Because without this
We will surely fall
Do you hear our Father pleading?
Will you answer the call? Oh yes.
CHORUS
Living colors, living colors,
Yes, that's who we are
We are so beautiful to the glory of God
When we spread His love to every one
in Living Colors.
Every daughter, every son
Living colors everyone, everyone one
Living colors, Living colors,
Yes, that's who we are.
We are so beautiful to everyone
When we spread His love to one another.
Living colors, Living Colors, Living colors!
Please let us know what you think of our website and ministry. Your feedback is very important to us. If you want us to include a video, song, movie or book in our website listing, please let us know using the form. Thank you for your feedback.